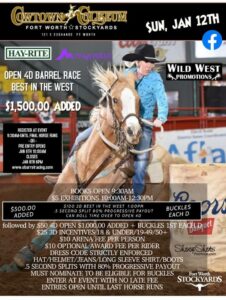 January 12th
Wild West Promotions Barrel Race
$1,500.00 added + 6 Tres Rios Buckles
Cowtown Coliseum
121 E. Exchange
Ft Worth, Tx
$1,000.00 added Open 4D
$500.00 added Best In The West 2D
Books open 9:30am
Exhs 10am-12:30pm
Best In The West 2D 1pm
Followed by Open 4D
Best In The West 2D $100
Open 4D $50
3D incentives (18&under, 19-49, 50+) $25
Exhs $5
Arena fee per person $10
Award fee per person(optional)$10
Best In The West is a 2D. Half second split and 80% progressive payout. You can roll your time to the Open 4D.
Open 4D will be half second splits, 80% progressive payout.
Buckles will be awarded in Best In The West and Open 4D.
Must pay $10 award fee to be eligible for buckles.
FULL DRESS CODE STRICTLY ENFORCED. Hat/helmet, long sleeve shirt, pants and boots.
Entries will remain open in both classes until last horse runs. No late fees!
Pre enter Monday January 6th at 10am – Wednesday January 8th at 6pm on ebarrelracing.com
HAY-RITE
Myristol