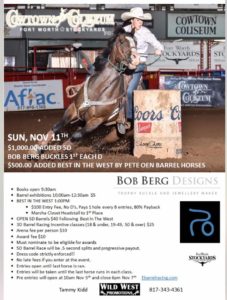 Sunday, November 11th
Cowtown Coliseum
121 E. Exchange Ave.
Ft. Worth, Tx
Wild West Promotions
$1,000.00 added 5D Barrel Race
Bob Berg Buckles to 1st place in each D!
Plus, $500.00 added Best In The West Barrel Race! Brought to you by, Pete Oen Barrel Horses!
Best In The West is an open Barrel Race. No D's, pays one hole for every 8 entries. $100 entry fee, 80% payback. Marsha's Closet headstall to 1st place!
5D $40
3D Incentives (youth, adult, senior) $25
Best In The West $100
Exhs $5
Award fee $10
Arena fee $10
Books open 9:30am
Exhs 10am-12:30pm
Best In The West 1pm followed by the Open 5D.
Must nominate to be eligible for awards. Dress code strictly enforced. Best In The West can carry time over to the 5D and incentive classes. 5D and 3D classes will be .5 second splits, 80% payback and progressive payout.
3D Incentives: youth 18&under, adult 19-49 and senior 50&over.
You can enter at the race with no late fees and entries will remain open until the last horse runs.
Pre entries open November 5th at 10am and close November 7th at 6pm on Ebarrelracing.com