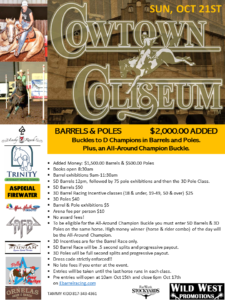 Sunday, October 21st
Cowtown Coliseum
121 E. Exchange Ave.
Ft Worth, Tx
Wild West Promotions
$1,500.00 added 5D Barrel Race
$500.00 added 3D Pole Bending
Buckles to D Champions in Barrels and Poles.
Plus, an All-Around Champion Buckle.
Books open 8:30am
Barrel exhs 9am-11:30am
5D Barrels 12pm, followed by 75 pole exhs and then the 3D Pole Class.
5D Barrels $50
3D Barrel Racing Incentive classes (18&under,19-49,50&over)$25
3D Poles $40
Barrel & Pole exhs $5
Arena fee per person $10
No award fees!
No late fees!
To be eligible for the All-Around Champion Buckle you must enter 5D Barrels & 3D Poles on the same horse. High money winner (horse&rider combo) of the day will be the All-Around Champion.
3D Incentives are for the Barrel Race only.
5D Barrel Race will be .5 second splits and progressive payout.
3D Poles will be full second splits and progressive payout.
Dress code strictly enforced!!
No late fees if you enter at the event. Entries will be taken until the last horse runs in each class.
Pre entries will open at 10am Oct 15th and close 6pm Oct 17th on Ebarrelracing.com
Shoop Shots Photography will be taking pictures!
Huge thanks to our sponsors:
Pollys Pony Partys Suzanne Foster Moseley
Mac Haik Chrysler Dodge Jeep Ram Bridget Thomas
AFB
Aspecial Firewater Mary Carter
Lucky 7 Ranch Shelby Rowe
Ornelas Farm & Ranch Fencing Cesar Ornelas
Trinity Veterinary Medical Center Tiffany Cox
Stidham Equine Sports Therapy Robbie Stidham