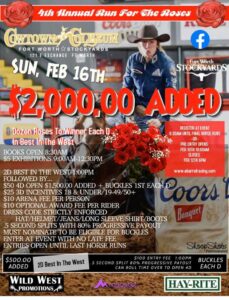 FEBRUARY 16th
Wild West Promotions
4th Annual Run For The Roses Barrel Race
Cowtown Coliseum
Ft Worth, Tx
💥$2,000.00 added
💥Buckles to 1st in each D
💥Beautiful dozen roses to be given away🌹
💥2D Best In The West
💥Open 4D
👉🏼This is the final race before the American Semi Finals and final race at Cowtown until September!
Flyer coming soon!!!
HAY-RITE
Myristol