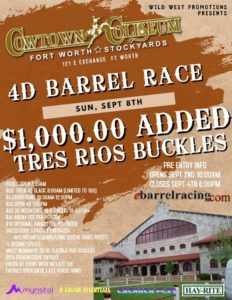 Wild West Promotions
Sept 8th
4D Barrel Race
$1,000.00 added + buckles!
💃🏼Cowtown Coliseum💃🏼
121 E. Exchange Ave
Ft Worth, Tx
Books open 9:30am
Exhs 10am-12:30pm
Open 4D 1pm
Open 4D $50
3D incentives (18&under, 19-49, 50+) $25
Exhs $5
Arena fee person $10
Award fee per rider (optional) $10
Dress code strictly enforced. Hat/helmet, long sleeve shirt, jeans and boots.
80% progressive payout
.5 second splits
Must nominate to be eligible for buckles.
Enter at the event with no late fees.
Entries stay open until last horse runs.
Pre entries open Sept 2nd at 10am and close Sept 4th at 6pm on ebarrelracing.com