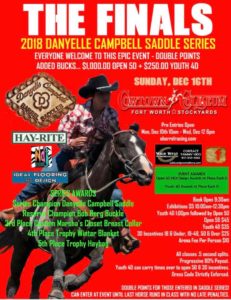 Here's the next Wild West Promotions Barrel Racing Series!!
⭐️Wild West Promotions 2018 Saddle Series⭐️
1st place: Danyelle Campbell Champion Barrel Saddle 😍
2nd place: Reserve Champion Bob Berg Buckle
3rd place: Custom Breast Collar made by Marsha's Closet
4th place: Trophy Winter Blanket
5th place: Trophy Haybag
Schedule:
Salt Creek Ranch & Event Center Boyd, Tx
Wednesdays: November 14th, 28th, December 5th, 12th
Final round will be held at Cowtown Coliseum in Ft Worth, Texas on Sunday, December 16th!
The Final Round will be double points and we will have $1,000.00 added to the 5D!
Salt Creek Ranch
Series 5D entry fee $35
Exhs $5
Arena fee $10
1x Award fee per horse $15
Cowtown Coliseum
Final Round 5D entry fee $45
Exhs $5
Arena fee $10
The awards will go to the Top 5 in overall points. Points will be given 1st-10th in each D at each race.
Each race will be 80% payback and progressive payout.
No rider or horse substitutions.
Must nominate to be eligible for awards.
You MUST attend 3 races PLUS the Final Round to be eligible for awards.
If there's a tie we will go by fastest time ran at Cowtown Coliseum.
Final Round will be double points.
Dress code will be enforced at Cowtown Coliseum..Long sleeve shirt, hat/helmet, boots and jeans.
Time schedule for races held at Salt Creek Ranch:
Books open 4:30pm
Exhs 5pm-7:15pm
Open 5D 7:30pm
Pre entries Tuesday 10am-12pm prior to each race. Text 817-343-4361
Time schedule for Cowtown Coliseum:
Books open 9:30am
Exhs 10am-12:30pm
Open 5D 1pm
Pre entries for the Fianl Round will be on Ebarrelracing.com Monday, Dec 10th thru Wednesday, Dec 12th.
Huge thank you to our sponsors:
Danyelle Campbell Barrel Saddles
Connie Tobiasson Ideal Flooring & Design
Hay-Rite